How to apply for assistance        Online Application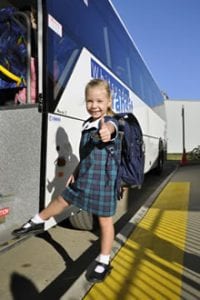 Whitsunday Transit is contracted by Queensland Government to take students to and from school. School runs operate to & from:
The State Government subsidises the cost of travel to and from school for eligible students. Some children may have to pay for the school service if they are not attending the nearest school.
Travel to after school activities, like sport or part time work, IS NOT COVERED by a school bus pass. If your child needs to catch a public bus to a different stop after school, they will have to purchase a ticket on the bus.
Transfers are made from Shute Harbour through Jubilee Pocket, Airlie Beach and Cannonvale to Proserpine and also cover the areas of O'Connell River, Dingo Beach, Strathdickie, Lethebrook, Conway Beach, Wilson's Beach and North Gregory.
New families into the area and families who have changed address, should complete an application form for an assessment of free school travel eligibility. Please obtain a copy of the Queensland Government Bus Travel Assistance Application Form, also available through the bus driver and at Whitsunday Transit's office.
Children living at the same address and attending the same school as last school, year need only to fill out a renewal form and forward this to Whitsunday Transit or the School Bus driver.
For students not eligible for free travel, Ten Trip Tickets / Term Passes are available from the Whitsunday Transit office.
For lost bus passes fill out an Application for Renewal, also available through the bus driver or at the Whitsunday Transit office.
Please click here for the Code of Conduct for school kids.
Completed forms can be emailed to buspasses@whitsundaytransit.com.au.
Not sure what you need? Call us 07 4946 1800 or send us an email
Need to pop in? Our office hours are:
7.30am to 4.30pm – Monday to Sunday